Koukaki through the eyes of seven residents: A Place of Residence and Transit
Koukaki spans from Dionisiou Areopagitou St. to Koudourioti square (known as "The Playground") and from the foothills of Philopappou to Syggrou Avenue. It is an area with long history and has recently undergone radical changes. In chronological order, these are: the pedestrianization of some central streets, the opening of two metro stations, the opening of the New Acropolis Museum and finally the Airbnb phenomenon and the vivid nightlife. The current article explores the area through the eyes of seven inhabitants, every one of whom has a story to tell.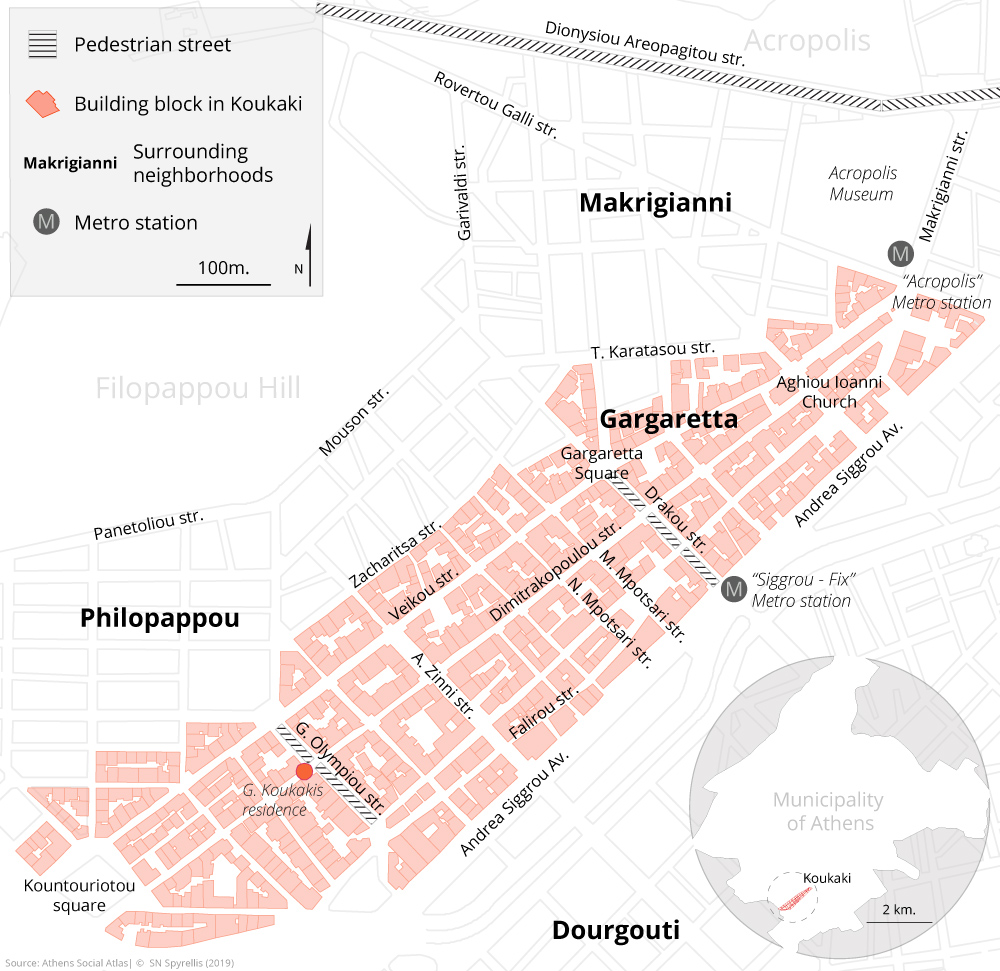 Map 1: Koukaki neighbourhood
Koukaki was named after Koukakis, an iron bed manufacturer who happened to lived there. Initially, the name 'Koukaki' was used for the area near the crossroads of Veikou & Olympiou or Dimitrakopoulou & Olympiou. There is a playground where Veikou and Dimitrakopoulou end, this is where the neighboring area of Kallithea starts. The neighborhood extends a bit more to the right of the playground, bordering the area of Petralona. This part of the neighborhood used to be called Philopappou, which is also the name of a hill, one of the area's borders. On the other side of Koukaki lies Gargaretta and next to that is the neighborhood of Makrygianni.Gargaretta extends from N. Botsari to St. John's church. In recent years, these four neighborhoods (Koukaki, Philopappou, Gararetta and Makrygianni) are often called Koukaki, although for many Athenians, Makrygianni is a separate district (Map 1).
As someone walks through these areas, the character of the neighborhood changes. It was not until two to three decades ago that one started getting the impression that the class status of the residents changed as one walked towards Syggrou Avenue. When one crossed Syggrou avenue and left Koukaki, the situation changed even more radically, remembers Mr. A, a retired university professor who has been living in the area for more than 50 years. A similar social change was noticeable when we crossed over from Plaka to Kallithea.
An imaginary boundary is Zacharitsa St., the area uphill is almost exclusively residential. Downhill, the two roads parallel to Zacharitsa, (Veikou St. and Dimitrakopoulou St.) are the two main commercial roads of the area. "Apart from this, the houses themselves are different uphill of Zacharitsa, as there are many more single family houses, while on the contrary between Zacharitsa and Syggrou the apartment blocks dominate", notes Ms. B, a sociologist who has been living on this street since 1968.
Photos 1-4: Above the imaginary boundary of Zacharitsa and Tsami Karatasou streets
Source: G Dimitropoulos 2020
Photos 5-8: Below the imaginary boundary of Zacharitsa and Tsami Karatasou streets
Source: G Dimitropoulos 2020
Throughout that period Koukaki has mainly been a residential area. Commercial stores were predominantly located on the two main axes, Veikou and Dimitrakopoulou. However, even these two streets are also residential, as the stores are located on the ground floor of the apartment buildings. How densely populated these two, seemingly commercial, streets had been in the 1980s is well known to anyone who was a child back then. Singing Christmas carols in the apartment blocks of one of these two roads was an endless, yet very lucrative task. A little further downhill, on Falirou St., the first parallel of Syggrou Ave., bars and cafés flourish. Many years ago, there used to be garages and vehicle refinishing shops, as if the road had passed over into Koukaki from the area of Neos Kosmos.
Photos 9-11: Change of usage, before and after
Source: G Dimitropoulos 2020
The residential building that is prevalent in Koukaki is the block of flats. , There are many single family houses uphill. Most apartment blocks were built in the '60s and the '70s. Mrs. B. contends that " downhill of Tsami Karatasou Str there are no architecturally interesting buildings." Indeed, with very few exceptions, the blocks of flats of Koukaki have absolutely no similarity to the elegant expressions of Athenian Modernism which decorate other areas such as Kolonaki or streets like V. Sofias Ave., Mavromataion, etc. Of course they also have nothing to dowith the refined apartment buildings which adorn Dionysiou Areopagitou St.
Photo 12: A residential building expressing the Athenian Modernism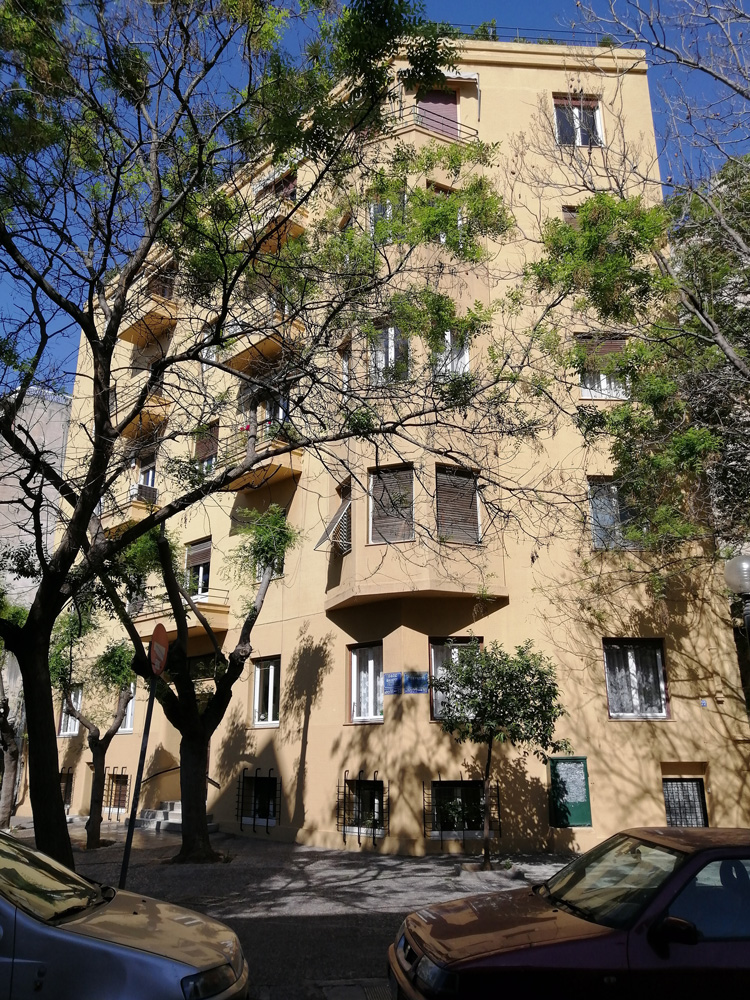 Source: G Dimitropoulos 2020
Generally speaking, Koukaki was a middle-class area, clearly more well-off nearer to the foothills of Philopappou. Its inhabitants, according to Mr. A, "… were not "aristocrats," but family-oriented middle class people" Mr. C, an architect and a real estate agent, aged 40, has been a resident of the region almost since his birth. "Previously, it was a cheap area, not at the foothills of Philopappou, but near Syggrou Ave. That is why during the 90s it attracted several economic migrants, mainly Albanians. Today I clearly see fewer such residents. "
Although the two main streets had many shops, most of them "were small shops, catering for the bare necessities," according to Mrs. B., who adds that "the center of Athens and Kallithea enabled the people of Koukaki to purchase a lot of goods that they needed." The contiguity of the area to these two major markets reduced the need for the development of its own market. It was very easy for a resident to take their trolley bag and go shopping. After all, public transport in Koukaki has always been convenient, especially its links to Athens' citycenter which could be reached by three different trolley lines. Mr. E, a retired accountant, chose to live in Koukaki shortly after 1980, and one reason, as he explains, was the excellent public transport and the commuting convenience, for him and his wife.
According to the general impression of the inhabitants, the neighborhood has a lot of intellectuals. Although their presence is felt, it is difficult to assess whether it is more pronounced in Koukaki than in other central areas of Athens. According to Mrs. B, "although in Koukaki there is a sense of intelligentsia, there is no particular cultural movement. They have their abodes here, but you will not see them making a presentation or delivering a speech here. Mr. H is Koukaki's most known bookseller and has been running his bookstore since 1970. He considers this phenomenon to be also the case in other areas where writers or artists live, as cultural events are held mainly in the city center. Asked why there is no other bookstore in the area, he recalls: "Once, writer Nikos Panagiotopoulos, a customer of mine, passed by with a well-known painter who told me: You are the last bookstore going down the hill. From here on, there is nothing until Patras!" "I can't say that people of Koukaki read too much," he adds. "Previously I used to sell less. Everybody went to the center for books where they could find a lot of discounts. When I began discounting, I started to sell more. Here you can find books from all publishersand of all kinds, and that is why I have good stock. Unfortunately, people mostly buy bestsellers, but more qualitative books sell too. "
An important change in Koukaki was the pedestrianization of two roads within the four-year period 1987-91. Firstly, it was Drakou St. that was pedestrianized, in the area of Gargaretta, and about two years later Georgaki Olympiou St followed suit. Both roads are perpendicular to the two central axes, Veikou and Dimitrakopoulou. Shortly after, the first cafés began slowly to spring up on these roads. Previously, there were not many places in Koukaki for someone to sit and have a coffee. "There were more old-fashioned cafés, with the elderly playing backgammon or cards and no women at all," remembers Mrs. B, "… one of them was at the corner of Drakou St. and Dimitrakopoulou St. It had nothing to do with the current hot spots of this pedestrian street. Outside the café, on Drakou St., which was still open to vehicular traffic, there was a taxi rank, so the café, besides the regular customers, also served the taxi drivers who were waiting for passengers". The café closed down when construction of the pedestrian street begun and was succeeded in 1988, after the completion of the works, by an Italian-style gelateria-café called Firenze. "This was the first shop to attract people outside the neighborhood," according to Mrs. B. Within the next seven years, Drakou was the heart of Koukaki.
It stopped being the "heart" of Koukaki much later. With the construction of the new Acropolis Museum in Makrygianni in 2009, the pedestrianization of the homonymous road also took place. "This new pedestrian street has taken a lot of people from Drakou St.," Mr. C. notes. "Because of the museum and the pedestrian street of Dionysiou Areopagitou, Makrygianni, apart from the locals or tourists, also attracts many residents from other areas. They just come once, to stroll "says Mrs. B.
Though the pedestrian street of G. Olympiou had some cafés from the beginning, it thrived much later, and changed radically during the three-year period 2011-14. Mr. C, recalls: "I was able to understand the changes during the time of my absence in Berlin (2010-16) because that time I did not experience Koukaki every day. It was the onset of the economic crisis, and whenever I returned where I lived, close to G. Olympiou, I could see closed stores everywhere. However, every time I came back, especially at Olympiou, I would notice a new shop. Until then this pedestrian street had only two cafés we hung out". One interpretation is that people's preference for Makrygianni St and the decline of Drakou St. favored the recreational activities in G. Olympiou. While Drakou St. was in fashion, the inhabitants near G. Olympiou could walk less than ten minutes and have their coffee. Nevertheless, walking double that distance to reach Makrygianni St. might have been too much for them and so the demand for new hangouts in their area was created. Another assumption is that, as most of G. Olympiou's leisure shops opened after the crisis, they were, from the outset, adapted to the economic hardships of the consumers. In any case, the pedestrianizations changed the image of the area radically, and one can safely deduce that subsequent changes in the character of the area, such as the growth of recreational areas, would not have happened if the three roads mentioned above had remained open to vehicles.
Photos 13-16: Drakou and Georgaki Olympiou pedestrian streets
Source: G Dimitropoulos 2020
In 2000, the area became one of the first Athenian neighborhoods to have the metro, when two stations became operational. Despite the already good transportation to and from the center, the Metro gradually made Koukaki very easily accessible from a variety of different locations, as new stations opened elsewhere in the city. "It is one of the biggest changes in our area" says Mrs. B, with Mr. C. pointing out that "… it caused other changes later on. For example, Airbnb would not have grown so much if the apartments were not near the metro". Mr. E says, "When my friends from the village are in Athens, they have as a meeting point the Syggrou-Fix Metro because it is convenient for all of them."
The construction of the new Acropolis Museum has induced great change to the area. Mrs. B. observes that before the creation of this museum "Koukaki was not a tourist area. It had some hotels, but the tourist coaches went elsewhere". In a similar vein, Mr. C. adds, "It pulled the people from Dionysiou Areopagitou St. a little further downwards. That is noticeable at the end of Veikou St. up to the church of St. John". However, Mrs. B. observes that along with people "…the Museum also brought about traffic problems, pollution and lack of parking space." Mr. D is a 42-year-old doctor and has been a resident of the area since his birth. At the same time, he is active in the family store in Gargaretta, which was established in 1963. In contrast to Mrs' B point of view, he considers the museum as "a modern talisman for our area, that fills us with pride." Regardless of how someone might evaluate all of these, it is certain that the triangle Chatzichristou / R. Galli St. – Makrygianni St. – Dionisiou Areopagitou St., which was once a very quiet spot, has become one of the most densely-populated, attractive and noisy places not only in Koukaki but also in the whole of Athens.
The two most recent changes in Koukaki, which occurred in the wake of the economic crisis, were the above-mentioned development of G. Olympiou into a very lively place and the arrival of Airbnb. Mr. E. observes that the neighborhood was ideal for Airbnb, as it was close to both the historical sights and the metro. Mr. C. adds, "At first, Koukaki was a relatively inexpensive neighborhood. Perhaps due to that, the prices at Airbnb might have been fiercely competitive, and Koukaki quickly soared into a fifth most preferable district in the world". Mr.D. treats the situation as a very positive phenomenon for the area, "Seeing tourists flock to stay in our apartment buildings, among us, is not something negative. They are people who add to Koukaki, they contribute something, see it and later spread the word when they return to their homelands. Just this publicity is enough to justify the important role of Airbnb". Mrs. B voices her misgivings, "There is always the peril that the tenants can be evicted from their homes or live with the constant angst of a huge rental rise. Many of them live in the neighborhood for many years. Besides, the tourists who come do not necessarily spend money in the neighborhood shops. They may buy everyday necessities from a supermarket chain rather than a local merchant". Mr. D, however, claims that many tourists drop by the family patisserie. "These very people are looking around for several hours a day to pinpoint what else is near their accommodation. As they walk, they see shops and get in, asking, learning and buying. They spend time and money in shops and recreational places in the vicinity of their accommodation".
Photos 17-19: Traces of short-term rentals
Source: G Dimitropoulos 2020
According to a hairdresser owner in G. Olympiou St., the extent to which shops increase their clientele due to Airbnb is related to the type of the shop. "The girls next to me (meaning a café-bar close to the hair salon) have set up a kitchen to make breakfast and brunch, and they serve Airbnb tourists. On the other hand, I still cut the hair of the same people I've cut the hair before".
Mr. E estimates that "every apartment building tends to have an Airbnb apartment" and he is worried that a sense of insecurity is in the air. "You are not aware of who lives next to you. Moreover, some of these tenants may not respect the unwritten rules of good cohabitation, e.g. on issues such as quiet and cleanliness". Mr. C is a real estate agent, albeit not professionally active in the area. He believes that the phenomenon is mainly positive, but a tighter regulatory framework is required so that the various Airbnb benefits will not have any unpleasant repercussions. "In Berlin, where I lived until recently, the phenomenon had proliferated very much, not in specific areas but across the whole city, thus making it virtually impossible for one to find a permanent residence in the city. They took measures that yielded returns. So now you can find both an Airbnb apartment as a tourist and also a permanent residence". In relation to a possible alteration of the area and its transformation into a purely touristic place he reassures: "I think the balance has been maintained. There is also a high percentage of owner-occupation in Koukaki".
One of the consequences of the changes that have taken place over the past few years is that more and more places of recreation are sprawling throughout the area. "Falirou St., the road of the vehicle refinishing and the garages, has now become the road of the bars," observes Mrs. B. For some of the interlocutors that have being interviewed in the current paper, the possibility of Makrygianni, Drakou and Olympiou streets to "unite", as their perpendicular roads will be riddled with places of entertainment, does not seem far-fetched. "The use of Koukaki is changing," says Mrs. B in a melancholic manner. From a place of residence, it is becoming a place of transit. At first glance, a leisure shop with tables and chairs urges you to stop your walk and sit for a while, stopping your walk. A shop with essentials where you have tostand, seems to be an integral part of your walk. However, there is a semiotic paradox that too many places "to stand for relaxing" gathered together signify just the opposite: a passage where you can stand, if you wish, without ever putting down roots. Mrs. Z, a poet and a resident of Drakou St., thinks that the cafés have enhanced the neighborhood feel. "We can meet our neighbors. We talk about every trivial or important issue, we played backgammon, but we also initiate nonpartisan social movements for the benefit of our neighborhood. Some of them were successful, and others not. We set up the Friendship Club [1]; we tried in vain to have the mobile phone antennas removed, we managed to get a traffic light for the pedestrians on Syggrou Ave installed". "Ask her also to tell you about our garden which we planted" said Mr. E one day earlier.
The liveliest urban landscapes are those that contain contradictions. A one-dimensional description of Koukaki , an area so lively and so changing, it is just impossible to do. It is both simplistic and unilateral to evaluate phenomena whose effects are diffuse. Stuck between a most important monument and several unattractive office-buildings, its character changes from block to block. At the same time, it is a tranquil neighborhood and an outdoor party, a box of neoclassical jewelry and a cement city, a global neighborhood and a place with the same inhabitants for fifty years. Perhaps the question whether it is a place of residence or a place of transit defies an answer. Because, sometimes, colorful passages are worth falling in love with and becoming part of.
[1] "Friendship Club" in Athens, refers to third age gathering places which are supported by the the municipality.
References
Vouyiouka, M., & Megaridis, V. (2006). Koukaki, Filopappou, Gargaretta. Athens: Filippoti. [in Greek]
Yiohalas, Th., & Kafetzaki, T. (2012). Athens: Tracing the city with history and literature as a guide. Athens: Vivliopoleion tis Estias. [in Greek]